MESSAGE FROM THE DEAN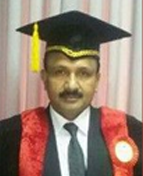 Faculty of Arts & Culture was established at Eastern University Sri Lanka in 1986; at present sixteen subjects is being offered in the Faculty in the field of Humanities and Social Science. The Faculty firmly believes that none other than but education is the only a potential factor that could be extensively contribute in producing good citizenship, building up of mutual understanding, co-existence and safeguarding democratic values and admitting tolerance of diverse opinions.
The faculty offers Undergraduate Degree courses in Bachelor of Arts and Bachelor of Education as "General Degree and Special Degree" progrmmes. Also awards Post Graduate Degrees such as Master of Arts, (Taught Course), Master of Philosophy ( M.Phil) and Doctor of Philosophy (PhD) in different disciplines. In addition it conducts "Diploma in Psycho Social Work", Certificate Course in "Early Childhood Care and Development" respectively through "Centre for Social Research and Development" and "Centre for Early Childhood care and Development" respectively. External Degree Programme also being conducted to reach out those who were unable to enter the University as Internal students.
The Faculty also engaged in promoting research in diverse contemporary issues and conducts Faculty research forum in every month with wider participation of teachers and students. Academic staff of the Faculty present their research papers both at local and International forums. Some of the teachers had established academic link and collaborative research with South Asian, European and North American Universities and some students of the Faculty had acquired chance to follow Postgraduate Degrees abroad.
Dr K Rajendram,
Dean/ Faculty of Arts & Culture